Superior Connecticut Basement Remodeling & Finishing Services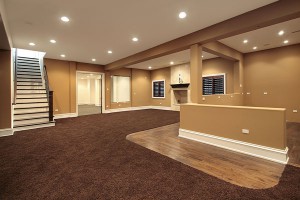 Basements can provide an additional space in your home for various purposes from office space, entertainment center, and family room to that extra bedroom for your guests.
When in need of the best basement remodeling and waterproofing services, turn to home improvement experts that provide quality remodeling services in Connecticut—Modern Painting & Remodeling!
We are an award winning basement remodeling company that delivers superior basement options all across Connecticut. We service the New Haven County, Fairfield County, Greenwich, Westport, Darien, Easton, Hamden, Clinton, and New London area.
Almost any basement remodel is possible with Modern Painting & Remodeling Company. Whether your current space needs a complete basement renovation or a fresh makeover, our basement waterproofing and design team will guide you through the entire remodel process, showing you how easily you can get a stunning new basement.
As a basement waterproofing company with all the knowhow in basement remodeling techniques, we truly turn your hoary basement into the most favorite space of your home.
Old HVAC? We have real solutions!

Low ceilings? No problem!

Remodel your basement up to new specifications?

We know all the codes!

100s of successfully completed projects

Award winning basement remodel designs

Guaranteed timeline and budget
We have grown to become the "go to" basement remodeling & waterproofing company in Connecticut. Our certified remodelers create fully customized basement designs for those interested in adequately utilizing every existing space.
We work with you to ensure a seamless basement renovation and thereafter deliver a beautifully finished basement, which takes your every need and goal into consideration.
Why Our Basement Renovation is Reliable
Whatever your budget or idea, come to Connecticut for a basement remodel and waterproofing that's most ideal for you and your home. Whether you are  in need of simple updates or a complete basement renovation, our New Haven and Fairfield home remodelers have 1000s of possibilities for your space and can make your dreams a reality.
Looking for a top basement remodeling service in the greater Connecticut? Look no further! Modern Painting & Remodeling is solid and committed to your satisfaction. Call 203-907-6394 today for a no obligation consultation with any of our basement renovation experts.