The Must-Know Basics of Interior Painting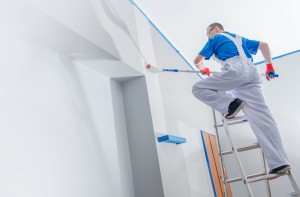 There's nothing quite like a brand-new paint job to make a space feel like new. However, if you're like millions of other homeowners across the country, getting the interior of your home painted is easier said than done. There are so many steps –choosing paint, picking tools, prep work, completing the job, and cleanup – that the task, though straightforward, can seem entirely too overwhelming. Fortunately, there are a few basic tips you can follow to make the task easier on both you and your chosen residential and commercial painting company.
Choosing Your Color
The first step to getting the best possible results in your interior painting job is choosing the right color. First, decide what type of mood you want to set in your home. Discuss this with a professional designer, remodeler or other painting pro to break down the options into cool, warm and neutral categories that suit the look and feel you're going for. They'll help you narrow down the color possibilities even further until you find that absolutely perfect shade for your space.
Trust the Pros
It's tempting to bust out the rollers and attempt to tackle the task of repainting your interior space yourself, but if you really want great results you'll want to trust a residential and commercial painting company with the job. The professionals have the right tools and experience to ensure your walls are covered evenly and in all the right places while avoiding unnecessary messes on your trim and baseboards. Furthermore, you won't need to put yourself at risk by balancing on ladders.
Price it Out
The last thing you want to do is pay for a professional paint job only to find out the final cost is far beyond what you expected. Take the time to price out your options before choosing a company, and get a quote where you're able. Of course, price isn't always everything. Be sure and take a company's experience into account as well.
Discussing color tips, price and other details with your local commercial painting team can help you get the space you've dreamed of in no time at all, and ensure you're really proud of your room moving forward. Call in to get more information and give your home the shine it deserves.