The Best Way to Paint the Exterior of Your Home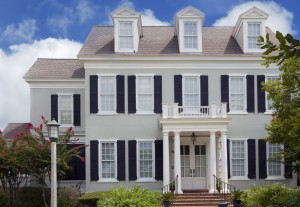 If you have wood siding on your home, then you know it will need fresh paint jobs to keep it looking great. Instead of slapping on some paint and hoping it looks all right for a while, you need to get on board with doing exterior painting the right way the first time. The first thing you should do is to call a professional painting company.
You may be tempted to do the paint job on your own. This may seem easier and more cost effective, but a professional can help you get the job done faster, safer and more efficiently. Not only that, but they have the tools, equipment and skills to make your paint job last longer and look better long term.
A professional can choose the best weather conditions in which to paint, the right amount of humidity, sunlight and wind to make sure their efforts result in the best possible exterior painting. A professional painting company will also know what type of paint and primer as well as any sealants your wood siding will need in order for the paint to adhere in the best way.
Safety is also a big issue when painting, especially the exterior of a home. A professional company will have the roller extenders, ladders, scaffolding and any harness equipment needed in order to keep the workers safe while painting. When you paint without the proper preparation and equipment you risk doing it incorrectly or worse, unsafely.
So when your home's exterior needs a facelift in order to look its best or to have the most value on the market, you should trust a professional painting company to get the jo b done right the first time. You will love how your home looks with its new pop of color and how long those colors last out in the elements for many years to come.