Don't Hire a Painter Until You Ask These Five Questions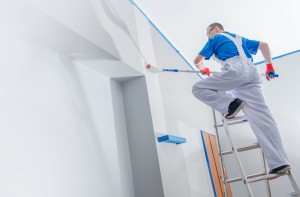 Whether hiring a painter for your home or business, you need to know the job will be done right and with the proper materials. Exterior painting is key to a great first impression, so ask these five questions to any potential painter you are interviewing.
Are You Covered By Insurance?
Insurance to cover on-site accidents or later damage due to improper procedures prevents you from paying large out-of-pocket costs when something goes wrong. It's also important that a potential painter has liability insurance to cover accidents that damage property, such as vehicles and landscaping.
Do You Perform Background Checks?
During a painting projects, crew members will spend a lot of time on your property. That's why it's important to know your contractor has performed background checks and only hires trustworthy people.
What Is Your Lead Paint Policy?
While lead paint hasn't been used regularly in homes and buildings since the 1970's, there is still a concern when repainting older houses. If your property is old enough to possibly have lead-based paint on its exterior, then any painter you hire needs to handle this carefully.
What Materials Will Be Used?
External painting uses a variety of specialized tools not always seen in interior painting. The tools a contractor uses can impact how quickly and safety the job is completed. This is also a good time to ask about the paint brands you prefer.
What Are the Payment Options?
If you specifically want to use cash, make sure that is acceptable to a potential contractor. The same goes for credit cards and checks. Some smaller painting groups might not have the ability to accept all payment forms, which is why you should ask about this.
These five questions are a great way to determine if a contractor is right for your property. When you take the time to consider all your options for an exterior painting project, you can get better results.